Search Operations Conducted at Various Trident Group Sites in Punjab and NCR; Further Information Awaited on the Raids.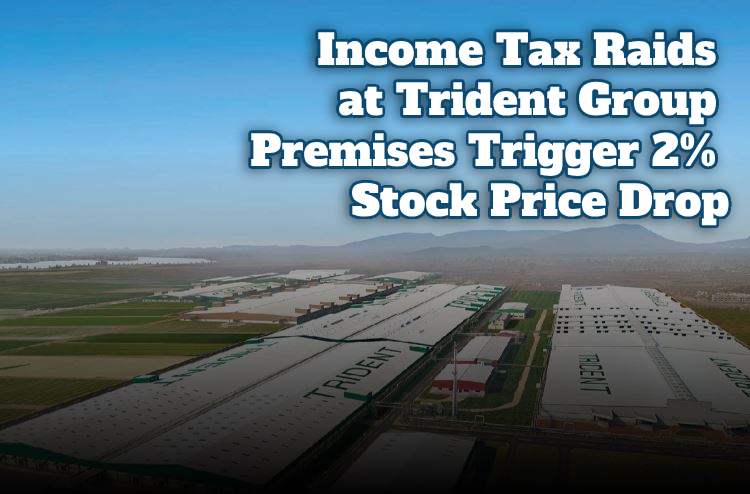 Trident Group is a worldwide conglomerate with operations spanning across home textiles, paper, and chemicals.
Trident Group Stock Sees Morning Volatility
In the fast-paced world of the stock market, the Trident Group shares experienced a morning full of twists and turns on October 17. At precisely 10:44 am, the stock was trading at Rs 36.25 on the NSE. However, it wasn't a smooth ride. Here's a breakdown of the key events that unfolded:
A 2.42 Percent Decline
The morning kicked off with some turbulence as Trident Group's shares saw a 2.42 percent decline. Investors keenly watched as the value dipped, following reports of Income Tax raids being carried out at various locations associated with the group.
Opening at Rs 37.30
Contrastingly, the stock had opened at Rs 37.30, showing a glimmer of hope for investors. This opening price indicated a 0.4 percent increase from its closing figure on October 16.
The Trident Group's stock, like the ebb and flow of the tide, exhibited fluctuations during the morning hours, leaving investors and market enthusiasts engaged and watchful.
As per an update from ANI, officials have revealed that these Income Tax department raids on Trident Group are part of a broader investigation aimed at uncovering potential financial irregularities.
At this point, additional details regarding these raids are eagerly anticipated and will be shared as soon as they become available.
The Ludhiana-based Trident Group is yet to announce its Q2FY24 results. In the previous quarter, Q1FY24, the company reported a decline in its financial performance. Here are the key highlights:
Net Sales: The company's net sales in Q1FY24 amounted to Rs 1,493.71 crore, reflecting an 11.08 percent decrease from Rs. 1,679.90 crore in June 2022.
Quarterly Net Profit: The quarterly net profit also saw a downturn, falling by 27.79 percent to Rs. 93.40 crore in June 2023, compared to Rs. 129.35 crore in June 2022.
EBITDA: The EBITDA (Earnings Before Interest, Taxes, Depreciation, and Amortization) for the same period was reported at Rs. 242.71 crore in June 2023, which marked a 9.04 percent decrease from Rs. 266.83 crore in June 2022.
As we await the Q2FY24 results, it will be interesting to see how Trident Group's financial performance evolves in the upcoming quarter.