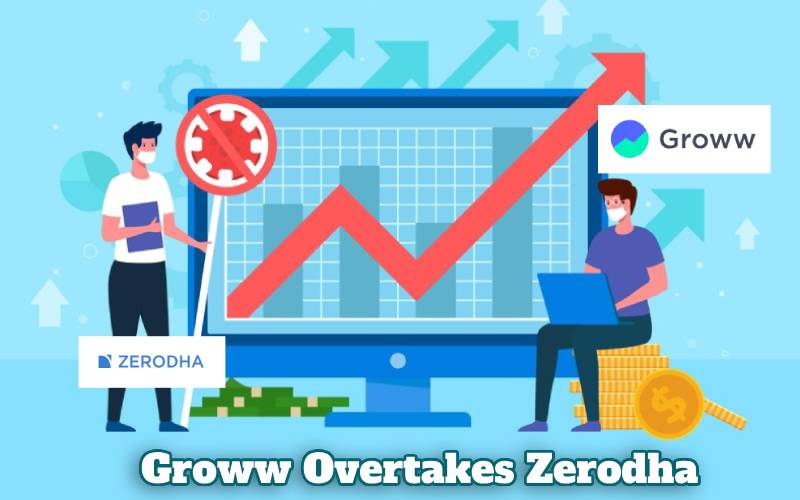 In a remarkable turn of events, Bengaluru-based fintech startup Groww has surged ahead of industry stalwart Zerodha, becoming India's top brokerage in terms of active investors. The latest quarterly figures from September 2023 reveal that Groww boasts an impressive 6.63 million active investors, outshining Zerodha's 6.48 million.
This shift in the industry landscape marks a significant transformation since March 2021 when Zerodha had 3.4 million customers compared to Groww's 0.78 million. Zerodha's user base has since grown steadily but not as dramatically as Groww, which has seen an astonishing 750 percent increase in its customer base.
💼 Company Profiles
Before delving deeper into the financial figures, it's essential to understand the key players in this evolving landscape:
Groww: A venture capital-backed fintech platform that has witnessed rapid growth, increasing from around 0.78 million users in FY21 to an impressive 5.78 million investors in FY23. Groww has gained momentum by offering user-friendly and cost-effective investment options, attracting formidable competitors like HDFC Bank.
Zerodha: The pioneer in the discount brokerage space, Zerodha, continues to be a dominant force with over 6 million customers by the end of FY23. The company excels in the Futures & Options trading segment, contributing significantly to its substantial revenue.
📊 Comparing the Quarter
Let's analyze the quarterly figures to get a clearer picture:
| Metric | Groww (FY23) | Zerodha (FY23) |
| --- | --- | --- |
| Active Investors | 5.78 million | 6.39 million |
| Revenue | Rs 1,294 crore | Rs 6,875 crore |
| Net Profit | Rs 73 crore | Rs 2,907 crore |
👍 Positive Trends
Groww has achieved remarkable user growth, making it the leading brokerage in terms of active investors. It has strategically focused on attracting long-term investors with mutual funds and systematic investment plans. Their rapid customer acquisition and marketing efforts have paid off.
👎 Challenges Ahead
Despite its impressive user base, Groww lags significantly behind Zerodha in terms of revenue, mainly because of Zerodha's strong presence in the lucrative Futures & Options trading. To bridge this gap, Groww is now attempting to attract daily and F&O traders.
📈 Revenue Insights
Zerodha reported substantial revenue of Rs 6,875 crore in FY23, marking a 39 percent growth from the previous year. In contrast, Groww, operated by Nextbillion Technology Private Limited, reported revenue of Rs 1,294 crore, indicating more than three-fold growth from Rs 367 crore in FY22. While Zerodha's profitability matched its revenue growth, Groww's net profit reached Rs 73 crore.
💬 Words from the CEOs
Nithin Kamath, the CEO of Zerodha, has cautioned against unrealistic valuations, emphasizing the need to set appropriate expectations, especially in the world of trading. He noted that high valuations could lead to unnecessary spending and misaligned growth expectations.
Read Another News: Wipro's Shares Surge After Successful Acquisition of 9.95% Stake in FPEL Ujwal