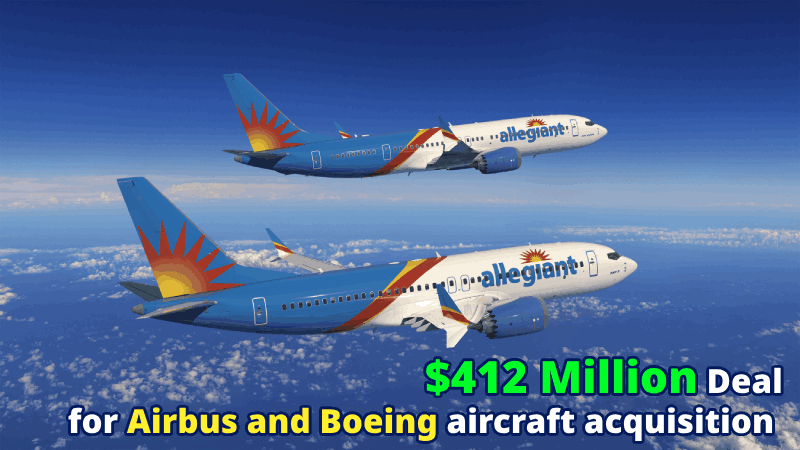 Las Vegas, NV – In a strategic move to diversify its fleet, Allegiant Travel Company (NASDAQ: ALGT) has announced a significant financial commitment of $412 million. The financing comes from a partnership between BNP Paribas (OTC: BNPQY) and Jackson Square Aviation (NYSE: JSA) and is set to facilitate the acquisition of seven Airbus A320 and four Boeing 737 MAX aircraft. This development marks a noteworthy shift for the Las Vegas-based ultra-low-cost carrier, known for its exclusive reliance on Airbus aircraft until now.
Robert Neal, Allegiant's Senior Vice President and Chief Financial Officer, expressed his enthusiasm for the innovative financing deal. Combining the resources of traditional banking with the support of aircraft lessors, Neal underlined that this framework injects a significant amount of liquidity into the airline. This financial boost will enable Allegiant to make essential investments in its fleet, including the introduction of Boeing 737 MAX models.
As of Q2 2023, Allegiant boasts a substantial market capitalization of USD 1.33 billion, accompanied by an adjusted P/E ratio of 8.41. During the same period, the company reported robust revenue of USD 2,505.37 million, marking a remarkable 20.09% growth. These financial indicators underscore Allegiant's financial stability, further fortified by this new financing arrangement.
On September 29, Allegiant tapped into the financing package, drawing down $196 million, with the remaining funds earmarked for the initial deliveries of the Boeing 737 MAX aircraft. This financing deal secures Allegiant's aircraft acquisition needs well into the second quarter of 2024, providing a cost-effective source of liquidity in today's dynamic market.
Although Allegiant has faced concerns about its substantial debt load and cash burn rate, it's important to note that analysts anticipate positive net income growth for the company this year. This suggests that, despite these challenges, Allegiant's financial outlook remains optimistic.
Neal also acknowledged the pivotal role played by BNP Paribas in Allegiant's growth, emphasizing their decade-long partnership. He expressed excitement about the addition of Jackson Square Aviation as a new collaborator in the pursuit of making air travel more accessible and affordable for leisure travelers.
BNP Paribas lauded the financing deal as an innovative solution that empowers Allegiant to maximize value while providing greater flexibility in managing its aircraft fleet.
In a significant development for both Allegiant and Boeing, the airline has committed to acquiring up to 130 Boeing 737-7 and 737-8-200 models in a multi-year deal. This marks Boeing's maiden venture with an ultra-low-cost carrier in the United States. These new additions to the 737 MAX series promise Allegiant enhanced flexibility, environmental benefits, and improved passenger features.
Currently, Allegiant operates a fleet consisting of 127 Airbus A319s and A320s, with ambitious plans to expand its fleet to over 200 aircraft within the next five years. Despite a slight delay in the delivery of its first two Max jets, Allegiant's capacity expansion plans for 2023 remain on track. The airline still anticipates receiving its first Max aircraft at the close of 2023, with operations slated to commence early next year.