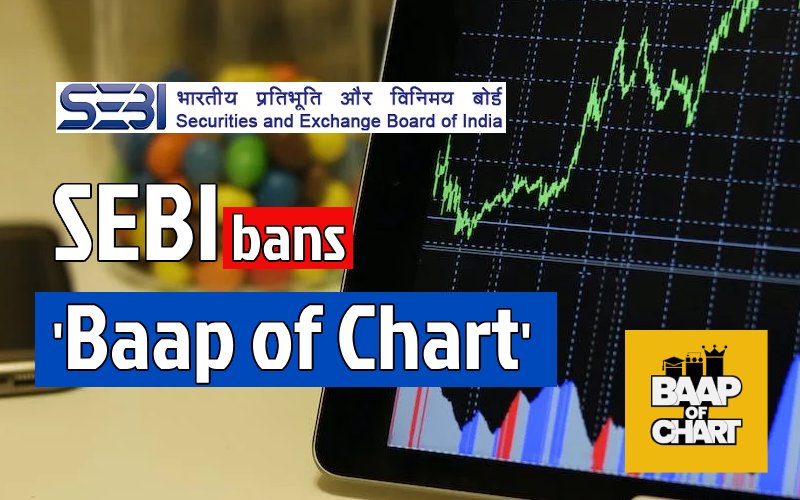 In a significant move, the Securities and Exchange Board of India (SEBI) has taken a resolute stand in its continuous fight against unregistered financial influencers, popularly known as "finfluencers," who dispense stock market guidance through social media platforms.
SEBI has recently implemented a ban on seven individuals, accusing them of contravening investment adviser regulations by providing stock market advice via various social media groups. These individuals, who operated under the pseudonym 'Baap of Chart,' have also received a directive from SEBI to deposit INR 17.2 crore into an escrow account. This deposited amount will be held in escrow until SEBI concludes its investigation. It's essential to note that this directive is a provisional measure, and a final confirmation order will be issued once the investigation is finalized.
What makes this case particularly intriguing is that the person allegedly involved in running unauthorized advisory services and selling trading courses to help clients profit from trading is now grappling with substantial losses. For the period spanning from January 2021 to July 2023, this individual incurred a staggering net loss of INR 2.89 crore. SEBI's decisive actions highlight their commitment to maintaining the integrity of financial advice in the public domain, protecting investors from unregulated sources.
The accused individuals engaged in activities that included offering stock market courses and making enticing promises of high returns and real-time exposure to the stock market. In this age of social media, there has been a surge in unauthorized stock advice, prompting SEBI to enforce regulations requiring registration for entities providing stock tips.
In an effort to tackle this growing trend, SEBI has recently implemented stricter norms for investment advisors. Additionally, the regulator has prohibited listed companies and SEBI-regulated intermediaries from collaborating with unregistered finfluencers. These actions underline the regulator's commitment to promoting transparency and compliance within the financial advisory arena, ensuring a safer investment environment for all.