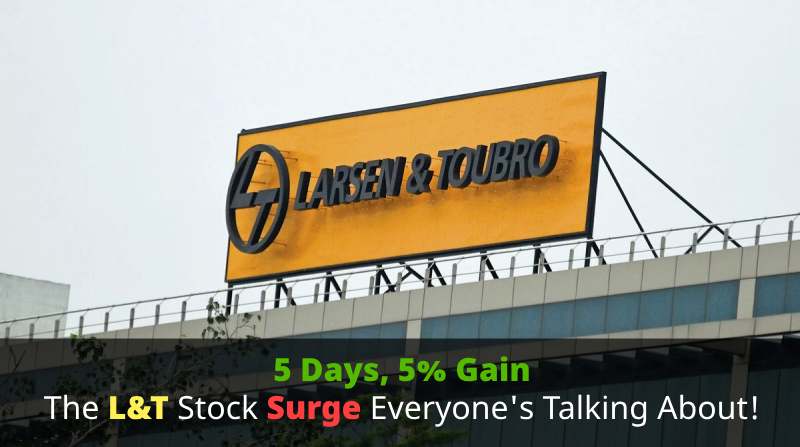 Shares of the prominent civil construction company, Larsen & Toubro (L&T), have been on a remarkable ascent this week. The stock has scaled new heights throughout the week, achieving a substantial gain of 5 percent. On September 29th, L&T's shares soared to an all-time high of Rs 3,057 per share on the Bombay Stock Exchange (BSE), marking an impressive 1.5 percent increase.
As of today, approximately 11 lakh shares have changed hands on both exchanges, a notable contrast to the 42 lakh shares traded on September 28th. The one-week average, meanwhile, reflects a trading volume of approximately 23 lakh shares.
In a significant development, on September 29th, L&T announced through an exchange filing that its construction division had secured a substantial contract from the Mumbai Metropolitan Region Development Authority (MMRDA). This contract entails the design and construction of an Underground Road tunnel Project connecting the Orange Gate and the Eastern Freeway to the Marine Drive Coastal Road in Mumbai.
"The project's alignment primarily traverses beneath the Sardar Vallabhbhai Patel Road and is slated for completion within a span of 54 months," stated the management in their press release.
In addition to this, on September 28th, L&T concluded the bidding process for its Rs 10,000 crore share buyback program, achieving a remarkable 100 percent acceptance ratio among retail investors. The maximum share price for the buyback was set at Rs 3,200 apiece.
Read: OpenAI Seeks Funds at Valuation of $80-$90 Billion: Report
Brokerage Outlook
With a consistent stream of orders in the pipeline, the global brokerage firm Jefferies has maintained a 'buy' rating for L&T. They highlight that the company's primary markets, India and the Middle East, are experiencing increased capital expenditure.
"We anticipate that the first half of fiscal year H1FY24E will witness a surge in order flow due to elections driving upfront order placements. The second half is expected to benefit from margin recovery. L&T is currently trading at a price-to-earnings ratio of 26x for FY25E, presenting the lowest premium (23 percent) compared to the FY03-10 average PE during the previous capex upcycle, in contrast to the rest of the coverage universe," noted the brokerage firm.
UBS also expressed a bullish sentiment towards L&T, raising their target price to Rs 3,600 per share. Analysts foresee L&T achieving a compounded annual growth rate (CAGR) of 17 percent and 32 percent in core sales and earnings per share (EPS) for fiscal years 2023-2026.
"The company's new strategic direction underscores its commitment to consistent new order growth and expanding opportunities in the global market. In the June quarter, nearly a quarter of L&T's order book originated from the Middle East," added the brokerage firm in their recent report.
Furthermore, analysts at Prabhudas Lilladher have set a target price of Rs 3,302 per share, while CLSA and Bernstein have set target prices of Rs 3,240 and Rs 3,268 per share, respectively, for L&T.
Disclaimer: The views and investment suggestions expressed on this website are our own and may not necessarily align with the perspectives of the website or its management. We highly recommend that users seek advice from certified financial experts before making any investment choices.